Hello everyone,
I am new to this forum and have never been a member of the community, but I followed anxiously the development of SORR from the shadows, until it got eventually released ...and later shut down.
I was one of the few lucky people to get their hands on V5 shortly after its release and before the takedown. And man, it was all I'd hoped for. I am not only a fan of SOR, but of all beat 'em ups in general, holding both SEGA and Capcom very high in regards to the classics they presented to us.
Around the time of SORR's release I was taking my first steps in game development, and it inspired me! Not only me, there is a whole legion of fans and it would be a shame to let Bomber and his programming prowess go forgotten.
Nowadays I'm not so much into development itself, but more into game design, pixel art and sound effects, and since that is the biggest "problem" with the game (aka led to the game being taken down), I am willing to approach Bomber regarding this matter, to produce a fully original game based on the engine powering SORR. Perhaps even a total conversion.
These are all the details I can make public. I would gladly discuss further with Bomberlink himself, so if any of you ladies and gentlemen could help me reach him, or have him reach me, I would be much appreciated.
P.S. También hablo Español

kzr

Galsia




Posts

: 3


Join date

: 2017-10-17



I tried contacting Bomberlink numerious times throughout SORR's development and for one reason or another he never responded. Not sure if he can still be contacted seeing how he likely has changed his e-mail address. I don't think the forum staff is going to go through with letting you contact him about making a total conversion. Many folks have tried that only to be turned down.

graylandertagger

Signal




Posts

: 148


Join date

: 2013-02-11



Thanks for the info. I figured as much, but I'm still willing to try as it would not be the first time I managed to contact a developer against all odds. Some time ago I managed to contact the team behind the NES game Nightshade regarding a remake, which didn't go forward because after 20+ years all the studios and companies behind it were bought out and it is today uncertain who the copyright holder is. All the leads turned out to be dead ends.
The thing is, I have original sprites and sounds for at least 20% of a full game, enough to build a solid Prototype. I am more than willing to build it myself if I can get around learning some advanced modding, like replacing character sprites. If I succeed in building this prototype, maybe it will get Bomber interested, as all the mods I've seen are based on other games.
Maybe a modder would like to work with me?
I can show you an example of my work to get your interest, resized 3x, but only noticeable when opened in the browser or in an image viewer/editor.
Bear in mind that this is a sample from a study, not all characters are final, as obviously seen in the quality of some of them. not all are my own creation, but I have permission from the authors. those would be
*line 1 char 2 (samurai)
*line 3 chars 2 and 3(spear man and purple ninja)
*line 4 chars 3 and 4( dragon and mounted spear man
*line 7 char 3 (green spike slug)
*last line 1 char 1](blue ninja standing on giant shuriken)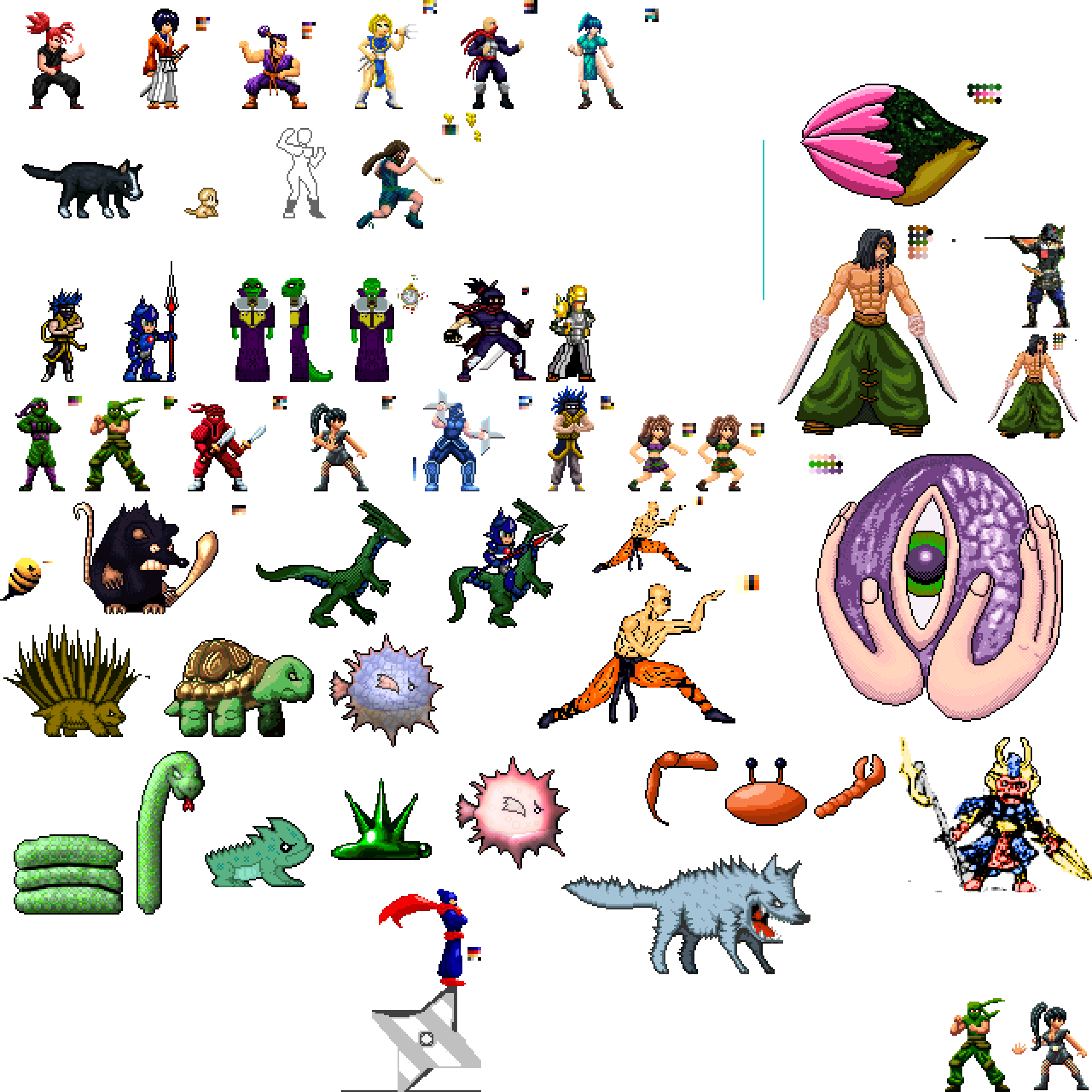 If you want to do this, and have the skills, hit me up!

kzr

Galsia




Posts

: 3


Join date

: 2017-10-17



this is probably better suited for offtopic. If you're not much of a coder why not just use the Open Beats of Rage engine? It'll provide everything you need without having to build an engine from scratch and the devs behind it are always reachable.
_________________
Well, the way I see it, SORR is a very solid game. giving it a new skin would not change any of its mechanics.

BOR is more open as it should be, since it is a game engine. I remember not getting into it because the scripting was too much for me. I'm tempted to use Paintown, though, as it supports side-scrolling, platforming, and also 1 on 1 fights like in Street Fighter, besides the typical beat 'em up.

kzr

Galsia




Posts

: 3


Join date

: 2017-10-17



---
Permissions in this forum:
You
cannot
reply to topics in this forum